Apartments for rent in Wroclaw
Renting an apartment in Wroclaw might turn out to be challenging especially for foreigners who want to come whether they are students in exchange programs or young professionals coming for professional reasons. Luckily we are here to help you in your Wroclaw apartment hunting as we prepared for you a list of the best apartments in Wroclaw which you can rent fully online in easy and secure way.
Studio flat "City" in student house in Wroclaw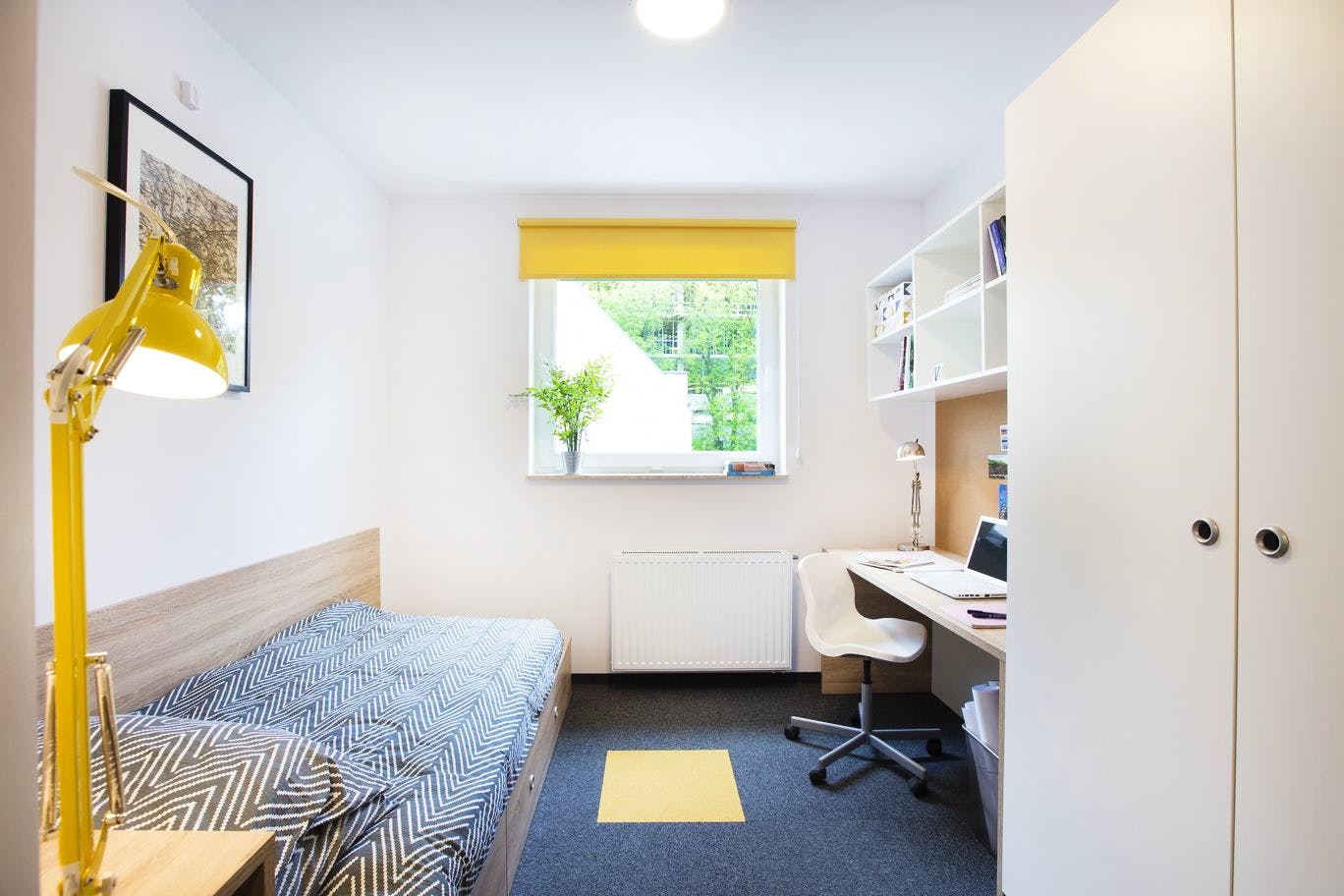 This studio in a student house has everything you need if you are looking for an accommodation to live by yourself. First of all this is the CITY variant of the studios available and if you like design you will be happy to know that you can choose between this one and another one called NATURE. This one has a combination of grey and green alludes to the modern, urban vibe. Inside you'll find everything you need to comfortably live and study in Wrocław. The 16m2 studio apartment is equipped with a comfy bed, a desk with a chair, a spacious wardrobe, hanging cabinets and shelves, a kitchenette with a fridge and a cooking plate, as well as a private bathroom with a shower. The floor is panelled in a fitted carpet for your comfort.
The student house is located near the center of the city as you can reach Old Town within 15 minutes by public transportation. It is also close to key universities of Wroclaw so it is perfect for students.
The standards are high and many services are provided to tenants. So if you are looking for great comfort and great student environment this studio is made for you!
Studio flat "Nature" in student house in Wroclaw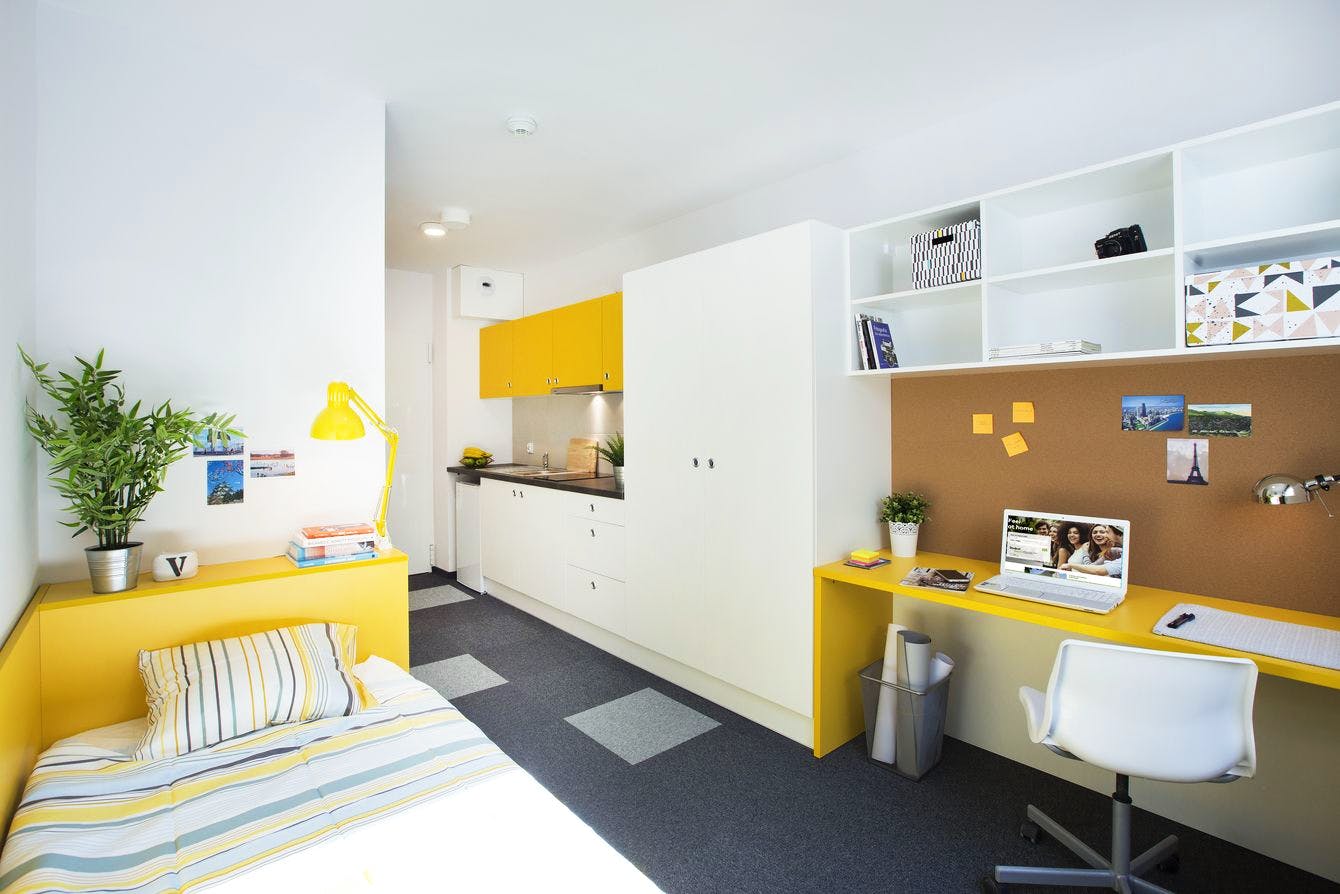 This is another variant of the studios available in the same student house. It is called the NATURE. And the main difference is the design as this one has the oaken furniture color with orange accents that allude to the peaceful and natural atmosphere of harmony. So it has the same advantages of the student house. Between the city and the nature you have the choice!
Flat at Dlugosza street in Wroclaw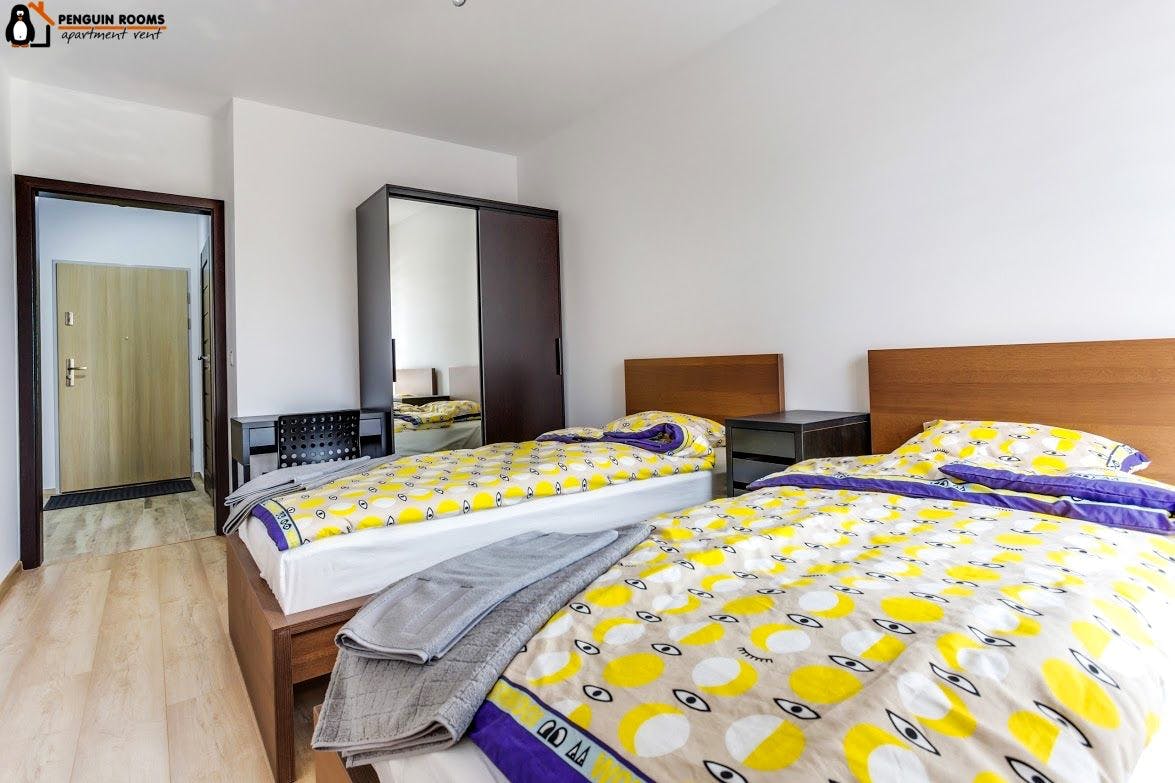 3 bedroom apartment with a capacity of 5 guests, so if you are a group of friends coming to Wroclaw looking to share a very spacious flat at a great price then this offer is made for you. The apartment includes a dining room, fully equipped kitchen and bathroom. Private parking is available on site.
It is a great choice for people who are interested in zoological gardens, walks around the city and sightseeing because it is located next to parks, zoo garden and the city center.
Apartament on Długosza Street usytuowany jest we Wrocławiu, w dzielnicy Psie Pole, 2,5 km od Ostrowa Tumskiego i archikatedry św. Jana Chrzciciela. Apartament mieści się w budynku z 2015 r. Apartament obejmuje jadalnię, w pełni wyposażoną kuchnię i łazienkę. Na miejscu znajduje się prywatny parking. Muzeum Narodowe oddalone jest od apartamentu o 2,7 km. Panoramę Racławicką dzieli od niego 2,9 km. Odległość od najbliższego lotniska – portu lotniczego Wrocław-Strachowice im. Mikołaja Kopernika – wynosi 13 km. Psie Pole to świetny wybór dla osób, które interesują się ogrodami zoologicznymi, przechadzkami po mieście i zwiedzaniem. Learn More
Warszawa
Choosing accommodation in Wroclaw is not easy. What you should take for consideration is communication to your work or University (you can use Google Maps or JakDojade app for that), budget, standard and type (single room, studio or bigger flats). Offers that we presented on this article are best student accommodation in Wroclaw. All of this offers and many more you can book fully online and secure on Pepe Housing. If you still haven't found what you are looking for, feel free to contact us or search more offers on our website.